Larry Crowe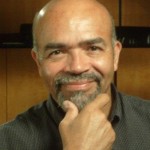 Larry F. Crowe joined the Kemetic Institute in 1978, shortly after its inception. Chair of the Committee to Commemorate Martin R. Delany, and a member of the Research Committee of the Kemetic Institute, his published articles about African historians, Willis N. Huggins, John Edward Bruce and John G. Jackson have appeared in the Kemetic Voice and the ASCAC Midwest Region's Newsletter.
In 1998, K.I. published Baba Crowe's Reflections on the Life of John Henrik Clarke, portions of which appeared in Source Magazine and the ASCAC national website. He has lectured for the Teaching About Africa program of the Kemetic Institute, at the Temple of the African Community of Chicago, ASCAC's Midwest Regional and National conferences, and numerous community venues in Chicago, and Ohio. His work on 19th and 20th century historiography feed his general study of African history and culture.
Since 2002, Mr. Crowe has traveled the United States, completing over 800 interviews for the HistoryMakers national African American video oral history project, including interviews with Dr. Jacob H. Carruthers and Dr. Asa G. Hilliard, III. In 2006, he moved back to his hometown, Dayton Ohio, after a three-decade sojourn in Chicago. There, he worked for the Institute for Positive Education, Third World Press, Kuumba Theatre and the African American Arts Alliance of Chicago.
Also known for his art and photography, Crowe's illustrations appear on or in over a dozen books. He continues as oral historian for the HistoryMakers, and is currently organizing an ASCAC study group in Dayton. His educational agitation for Martin R. Delany was rewarded in 2006 with a new eight foot grave monument in nearby Wilberforce. Larry served the Midwest Region of ASCAC as Vice President and Chair of the Research Commission until the death of its president, George Jolly in December 2006, when he took over the presidency. Larry Crowe was elected president the Midwest Region of ASCAC in 2007.